Report from Samos demonstrates that Greek and EU-authorities routinely violate the rights of survivors of human trafficking.
6th September 2023, Vathy, Samos: Through analysing the cases of 53 survivors of human trafficking, I Have Rights (IHR), a non-profit legal organisation based on Samos, presents evidence that at every stage of the asylum and reception procedures in the EU-funded Samos Closed Controlled Access Centre (CCAC), survivor's rights are violated.
As detailed by Giulia De Vita, co-author of the report and Advocacy and Communications Officer at I Have Rights:
"Greek and EU authorities, especially those who are working with asylum seekers, must be sensitised to survivors of human trafficking. This, compounded with the glaring similarities between survivors on Samos, means it is unacceptable that survivors are routinely ignored and left without access to essential support." 
100% of the 53 survivors displayed clear indicators of their experiences of human trafficking, meaning that the authorities had "reasonable grounds" to act, as is required in law. IHR's data shows there is a clear demographic of survivors arriving to Samos: 100% arrive as single adults (or with infants), 100% are of African descent, 89% are female and 85% are from Sierra Leone with 83% of the survivors being exploited in Turkey or Iran. Additionally, 64% of the survivors had one or more medical conditions that, if investigated, could have indicated their exploitation. For example, 28% had gynaecological conditions and/or sexually transmitted infections. IHR argues that these striking similarities meant that the Greek and EU authorities present in the CCAC should have been acutely aware of the high presence of survivors on Samos. 
Yet, Ella Dodd, Project Coordinator at I Have Rights explains that: 
"Despite their legal obligations and millions of euros of funding from the EU, the Greek and EU authorities in the Samos CCAC are, at best, desensitised to survivors, and at worse wilfully ignorant of their obligations, resulting in a systemic violation of the rights of survivors of human trafficking."
Under international and national law Greece is obliged to identify, provide protection and recognise survivors. IHR presents evidence that:
At the identification stage:
0% of survivors were identified or informed of their rights during Frontex conducted police screenings.
0% of survivors were identified or informed of their rights in full registration interviews conducted by the

by the Greek Asylum Service (GAS) and the

European Agency for Asylum (EUAA).
Only 13% were identified in vulnerability assessments conducted by the National Public Health Organisation (EODY).
Only 29%

were identified in asylum interviews, conducted by the GAS and the EUAA. 

Additionally, in 28% of interviews with asylum seekers, the Asylum Service and the European Agency for Asylum did not ask follow up questions to explore an applicant's experience as a survivor.

 
Through a Freedom of Information Request, IHR found that only 3 of the 23 EUAA caseworkers on Samos attended the EUAA training "Trafficking in Human Beings", pointing to interviewing caseworkers lack of training and sensitisation to survivors.

 
At the protection stage:
0%

of the survivors were provided with appropriate first level protection and integration support. 

IHR demonstrates that the CCAC is a highly unsuitable structure for the accommodation of anyone, especially survivors of human trafficking. The CCAC's prison-like structure, securitised environment, severe shortage of medical support, psychological assistance and lack of material assistance violates survivors rights. 
At the recognition stage: 
0%

of the survivors were officially recognised as victims of human trafficking.

0% of the survivors will be recognised due to Greece's non-recognition survivors who were exploited outside of Greece.
Therefore, while a fraction of survivors are identified, none are provided with first level protection and integration and none are officially recognized as survivors as is their right under law.  
This is one of many reports that point to the inhumanity of CCACs and how the approach of closed centres violate the rights of people on the move. "The report should act as warning against plans in the EU New Pact on Immigration and Asylum to use closed centres like the CCAC as a blueprint for the accelerated reception and asylum processing of people on the move at the EU's borders", explains Ella Dodd, "By focusing on the treatment of survivors of human trafficking, we demonstrate that even for a group entitled to special protections by law, their rights are routinely violated in the Samos CCAC".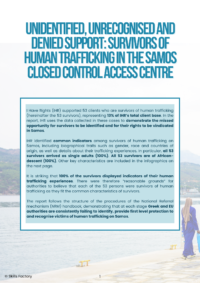 Contact:
Candice Schmitz, Advocacy and Communications Officer 
Email: advocacy@ihaverights.eu 
Phone: ‭+30 697 3528096‬ 
The report was supported by funds of Rosa Luxemburg Stiftung Office in Greece.