We deeply believe in the promise of the Universal Declaration of Human Rights, that all human beings are born free and equal in dignity and rights.
The process of seeking asylum in Europe stands in stark contrast to those ideals: at European borders, asylum seekers are denied their human rights through illegal pushbacks, arbitrary detention, restriction of movement in closed camps and degrading living conditions.
We believe that this reality is not in accordance with the rights and freedoms that European states are bound to guarantee for everyone within their jurisdiction. Yet, asylum seekers do not have the means to access justice, as legal counselling and representation are limited by practical or administrative barriers.
I HAVE RIGHTS is our answer to this intolerable reality and intends to reach beyond these limitations.
OUR WORK – SAMOS LEGAL CENTRE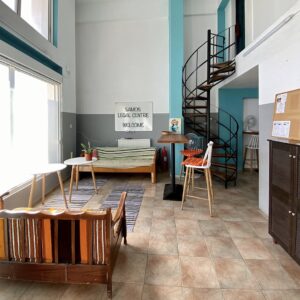 Together with Avocats Sans Frontières we built the Samos Legal Centre. We are sharing our offices and counselling rooms in the city center of Samos, right next to the Alpha Center of Samos Volunteers. The cooperation and exchange with another legal organisation provides us with insight on professional and organisational technicalities and allows us to work in a more effective way.
Individual Legal Information
As the asylum procedure is complex we offer our clients individual appointments to give them a more detailed overview over the stage of the procuedure they find themsleves in. Amongst other things we support our clients with
the preparation of their asylum interview and accompany them when needed

appeals

subsequent applications

family reunification
Legal Information Workshops
Our legal information workshops aim to provide a general overview over the different stages of the asylum procedure on Samos and the rights of every person seeking asylum.
We not only offer these workshops to asylum seekers on Samos on a regular basis to encourage them to make use of our support during every step of their asylum procedure. We also inform volunteers of other NGOs present on the island in order for them to be able to quickly understand when a person might need legal support so they can refer them to us.
Interim Measures
Since the end of 2019, we also focus on interim measures in front of the European Court of Human Rights. Interim measures are urgent measures which apply only where there is an imminent risk of irreparable harm. They enable the applicants to temporarily secure their rights in an accelerated procedure.
Our interim measures focus on vulnerable people like pregnant women, unaccompanied minors and ill people who need medical treatments on the mainland.
Out of 66 applications we have submitted so far, 57 have been approved.
Advocacy
Besides our legal services, we are engaging in Advocacy work to raise awareness of the situation for asylum seekers and refugees in Greece. Our Advocacy Team is publishing news on our Social Media channels and website. As a part of the Samos Advocacy Collective, we're working on different advocacy campaigns and projects.