We deeply believe in the promise of the Universal Declaration of Human Rights, that all human beings are born free and equal in dignity and rights.
The process of seeking asylum in Europe stands in stark contrast to those ideals: at European borders, asylum seekers are denied their human rights through illegal pushbacks, arbitrary detention, restriction of movement in closed camps and degrading living conditions.
We believe that this reality is not in accordance with the rights and freedoms that European states are bound to guarantee for everyone within their jurisdiction. Yet, asylum seekers do not have the means to access justice, as legal information and representation are limited by practical or administrative barriers.
I HAVE RIGHTS is our answer to this intolerable reality and intends to reach beyond these limitations.
OUR WORK – SAMOS LEGAL CENTRE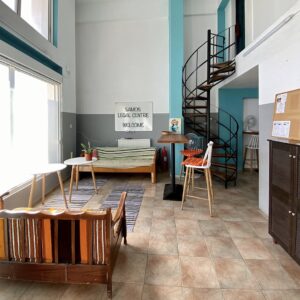 Together with Avocats Sans Frontières we built the Samos Legal Centre. We are sharing our offices and counselling rooms in the city center of Samos, right next to the Alpha Center of Samos Volunteers. The cooperation and exchange with another legal organisation provides us with insight on professional and organisational technicalities and allows us to work in a more effective way.
Individual Legal Information
As the asylum procedure is complex, we offer our beneficiaries individual appointments to give them a more detailed overview over the stage of the procedure they find themselves in. Amongst other things we support our beneficiaries with:
the preparation of their asylum interview and accompany them when needed

appeals

subsequent applications

family reunification
Legal Information Workshops
Our legal information workshops aim to provide a general overview over the different stages of the asylum procedure on Samos and the rights of every person seeking asylum.
We not only offer these workshops to asylum seekers on Samos on a regular basis to encourage them to make use of our support during every step of their asylum procedure. We also inform volunteers of other NGOs present on the island in order for them to be able to quickly understand when a person might need legal support so they can refer them to us.
Interim Measures
Since the end of 2019, we also focus on interim measures in front of the European Court of Human Rights. Interim measures are urgent measures which apply only where there is an imminent risk of irreparable harm. They enable the applicants to temporarily secure their rights in an accelerated procedure.
Our interim measures focus on vulnerable people like pregnant women, unaccompanied minors and ill people who need medical treatments on the mainland.
Out of 66 applications we have submitted so far, 57 have been approved.
Advocacy
Besides our legal services, we are engaging in Advocacy work to raise awareness of the situation for asylum seekers and refugees in Greece. Our Advocacy Team is publishing news on our Social Media channels and website. As a part of the Samos Advocacy Collective, we're working on different advocacy campaigns and projects. Also our legal team is engaging in the advocacy work by working on submissions and complaints to different Special Rapporteurs of the United Nations or support with strategic litigation.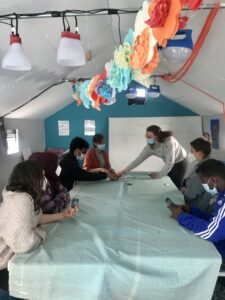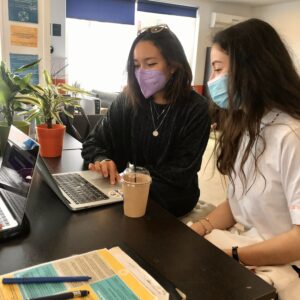 WHY ARE WE IMPORTANT?
Interview Preparation
The asylum interview is the most important step in the asylum procedure and it's crucial for the positiv or negativ decision of the asylum claim. First of all, it is important that asylum seekers are informed about their rights during the procedure. Additionally, I HAVE RIGHTS is preparing asylum applicants individually for their important interview. Every single asylum seeker arriving on Samos should be provided with independent legal information and support.
More than legal case work
What highlights I HAVE RIGHTS next to other legal organisations is the wide range of topics we are working on and the political interests we are following through our work on Samos. We are not only focussing on legal case work but also on strategic litigation and advocacy. Over the past months we built an educated team of legal case workers, an advocacy team consisting of three people specialised in different fields and a strategic litigation task force consisting of committed external volunteers.
We believe that the fight for a fair and dignified asylum procedure needs a wholistic approach to be able to tackle injustices on different levels.
Samos Volunteers
Samos Volunteers is providing us with our office right next door to their community centre in the city of Vathy. People who are spending time in the community centre can easily be referred to our office in case they are in need of legal support.
Médecins Sans Frontières
We are referring beneficiaries to Médecins Sans Frontières in case we are noticing the need of medical support during an appointment.
Selfm.aid Skills Factory
We are working together on the One for One Project: A fundraising project to financially support asylum seekers in different stages of their asylum procedure. Volunteers from the Skills Factory are producing pieces of art for donors who support the project. I HAVE RIGHTS is providing a list of beneficiaries in need of financial support for their next step in the asylum procedure.
Avocats Sans Frontières
ASF is also working on legal case work and we can share our knowledge and experiences on different cases. We are sharing an office and cooperate in managing our appointments with beneficiaries.
Still I Rise
Still I Rise was providing education for children from the camp in their school on Samos. Together with them, we were working on a submission to the Committee of the Rights of the Child to raise our concerns about the treatment of unaccompanied minors on Samos.
Advocacy Working Group
We are participating in the Advocacy Working Group where organisations from all over Greece work together on different adovacy campaigns and projects. Additionally some of our team members are individually involved in the Samos Advocacy Collective to focus our advocacy work on ongoing issues on Samos.