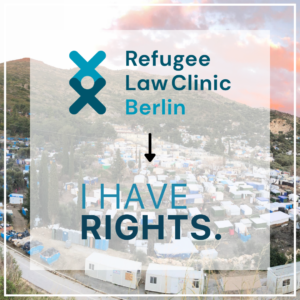 The Refugee Law Clinic Berlin (RLCB) started the legal information project on Samos in 2018. The organisation provided legal support in the form of interview preparations, legal information and workshops. As the project on Samos started to grow over the last years, the organisation of RLCB decided to set up an independent organisation on Samos which will focus on the situation in Greece. The new organisation I Have Rights is taking over and continuing the legal project on the island and start to provide free legal support to all asylum seekers and refugees in January 2022. The team of I Have Rights consists partly of former members of the RLCB who work remotely from Germany and new international members who are full-time working for the organisation on the ground in Vathy, Samos.
The Working Group Samos from the RLCB established the legal information project on Samos in response to European externalisation policies in 2018. The founding team consisted of Franziska Schmidt, Lina Herrmann, Philipp Schönberger, Andreas Eibelshäuser, Jenny Fleischer, Nora Gohrt and Daniel. The basic idea was to have a team of 2-3 legal counsellors, 2-3 interpreters, 1 coordinator and 1 supervisor on Samos. The former team held legal workshops several times a week in different languages to inform asylum seekers about the asylum procedure and adjective law. In addition they arranged personal meetings to answer specific individual questions.
The work of this group built the fundamental base of our future work here on Samos.